Udaipur, a city known for its majestic palaces, serene lakes, and rich cultural heritage, is also home to a hidden gem that stands as a testament to the city's spiritual and historical significance. The Karni Mata Temple, situated in the heart of Udaipur, is a place where history, mythology, and spirituality converge. In this article, we will take you on a journey to explore the depths of Karni Mata Temple, its historical significance, the unique ropeway experience it offers, and the best times to visit.
A Glimpse into Karni Mata Temple's History
Before we delve into the practical aspects of visiting the temple, let's uncover the fascinating history that shrouds Karni Mata Temple. The temple is dedicated to Karni Mata, a revered Hindu sage believed to be an incarnation of Goddess Durga. She lived in the 14th century and was known for her mystic powers, divine wisdom, and unwavering devotion to the divine.
Karni Mata was born in the Charan clan of Rajputs and, according to legend, she performed miracles throughout her life. The temple that stands today was built in her honor and is a place of great reverence for the people of Rajasthan. The temple's architecture showcases intricate designs and a stunning blend of Rajput and Mughal styles, making it not only a spiritual center but also an architectural marvel.
Karni Mata Temple's Significance
Karni Mata Temple is known for its unique feature – the presence of thousands of rats that roam freely within its premises. These rats are considered sacred and are lovingly referred to as "kabbas." It is believed that these rats are the reincarnations of the Charan clan, and their presence is seen as a blessing. Devotees from far and wide come to offer prayers to Karni Mata and seek her blessings. The temple's sanctum sanctorum, dedicated to the goddess, is a site of intense devotion and reverence.
Visiting Karni Mata Temple is not only an opportunity to pay respects to the goddess but also to witness this unusual and enchanting spectacle. The sight of rats scurrying around, eating from the offering bowls, and mingling with visitors is an experience that you won't find anywhere else.
The Ideal Time to Visit Karni Mata Temple
To make the most of your visit to Karni Mata Temple, it's essential to plan your trip during the right time. Here are some tips regarding the temple's timings:
1. Opening Hours: Karni Mata Temple is generally open to visitors from 4:00 AM to 10:00 PM. However, please note that these timings are subject to change due to various factors, so it's advisable to check with local sources or the temple authorities for the most up-to-date information.
2. Festival Season: One of the best times to visit the temple is during festivals like Navaratri and Diwali when the temple comes alive with fervor and devotion. The atmosphere during these times is electric, and you'll witness a surge in the number of pilgrims and tourists.
3. Early Mornings: If you prefer a quieter and more contemplative experience, consider visiting the temple early in the morning. The cool breeze and the tranquility of dawn add to the overall spiritual experience.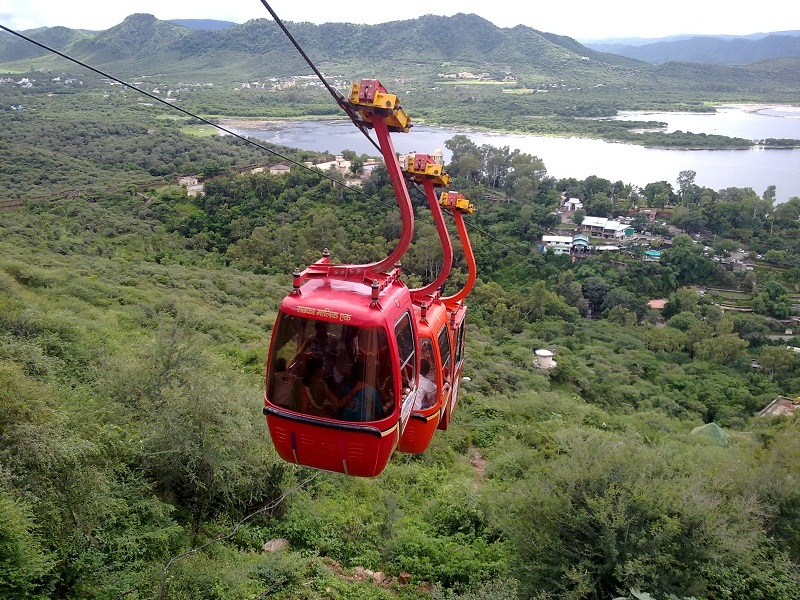 A Unique Adventure: Karni Mata Temple Udaipur Ropeway
Besides the spiritual ambiance and historical significance, Karni Mata Temple offers an additional attraction that sets it apart from other temples in Udaipur – the ropeway.
Karni Mata Temple Udaipur Ropeway: A Bird's Eye View
The ropeway, officially known as the Karni Mata Udaipur Ropeway, provides a breathtaking way to reach the temple while taking in panoramic views of Udaipur's picturesque landscape. Here are some key points about the ropeway:
1. Location: The ropeway is located near the Dudh Talai Lake, which is situated close to the City Palace. The Dudh Talai Lake, with its serene surroundings, makes for an ideal starting point for your ascent to the temple.
2. Scenic Experience: As you ascend in the cable car, you'll be treated to a bird's eye view of Udaipur's beautiful lakes, palaces, and the Aravalli hills. The view of Lake Pichola and the City Palace from the ropeway is simply stunning.
3. Convenient Access: The ropeway makes it easier for visitors to reach the temple without having to climb the steep uphill path. This is particularly helpful for the elderly, families with young children, and those who may have physical limitations.
4. Timings: The ropeway operates during the temple's opening hours, from 9:30 AM to 6:00 PM. The ropeway timings are in sync with the temple timings, ensuring that visitors have a seamless experience.
The Karni Mata Temple Udaipur Ropeway is not just a mode of transportation; it's an experience that enhances your visit and allows you to connect with the natural beauty that surrounds the temple.
Practical Tips for Your Visit
To make your visit to Karni Mata Temple as smooth and enjoyable as possible, here are some practical tips:
1. Dress Code: Like most Hindu temples, Karni Mata Temple has a dress code that requires visitors to dress modestly. Avoid wearing revealing or inappropriate clothing.
2. Footwear: You'll be required to remove your shoes before entering the temple premises. Carrying a small bag to store your shoes is advisable.
3. Rat's Blessings: The rats are considered sacred, so avoid harming or stepping on them. If a rat touches you, it's seen as a special blessing.
4. Offering Prayers: You can offer milk and sweets to the goddess. These offerings are known to bring good fortune.
5. Photography: While photography is generally allowed, be respectful of the surroundings and other visitors. Avoid using flash, which can disturb the rats.
6. Local Cuisine: After your visit to the temple, explore the nearby market for delicious local snacks and sweets.
In Conclusion
When embarking on a journey to visit the mystical Karni Mata Temple in Udaipur, you need not only the guidance of a reliable travel partner but also the convenience of efficient transportation. That's where Kalyan Tours, the best taxi service in Udaipur, steps in to enhance your temple exploration.
With Kalyan Tours, you can rest assured that your visit to Karni Mata Temple will be a seamless and comfortable experience. Udaipur's intricate road networks and the bustling city life can be daunting for first-time visitors, making professional taxi services a necessity.
Our well-maintained and modern fleet of vehicles, driven by experienced and courteous chauffeurs, ensures a stress-free journey. Whether you're traveling solo, with family, or in a group, we have the right-sized vehicle to cater to your needs.
We understand the importance of punctuality, and our drivers will pick you up from your preferred location and take you to Karni Mata Temple in a timely manner, allowing you to make the most of your visit. Plus, our competitive rates make us the best choice for affordable and reliable transportation in Udaipur.
Choose Kalyan Tours for a memorable and hassle-free trip to Karni Mata Temple, Udaipur, and let us be your trusted travel partner throughout your spiritual adventure in the City of Lakes.